It was on a repeat visit to Leecher fire lookout about three years ago when I first noticed the prominent profile of Old Baldy, a lofty 7,844′ summit right on the border of the Methow and Tonasket Ranger Districts. Not surprisingly, the mountain was also a former fire lookout site from 1934 until 1953, though there aren't many historic photos of it. Old Baldy immediately got my attention.
Over the last two years I've seen Old Baldy from nearly every peak I've climbed. It's uncanny really, how it's always there no matter where you are. Old Baldy is a bit like Fay Pullen's summit registers—everywhere! I guess you have to be a Washington State peakbagger to get that one.
The shortest and arguably easiest route to the summit is to hike just shy of a mile straight up Old Baldy's north side from Baldy Pass, about an hour northwest of Winthrop. Last year I tried that route in August but failed. Although maps and slope angle shading show the north side approach to be manageable, it's full of cliff bands, boulders, and loose rock. In August, the slope was so overgrown and brushy it was nearly impossible to find my way and I kept getting cliffed out. I know someone who has ascended the north slope, so it's certainly doable. I do my fair share of schwacking but I didn't like the approach, turned around, and vowed to find a more interesting and less painful way.
I looked at maps and it was hard to ignore the prominent ridge running north-south between Old Baldy and Starvation Mountain. Once upon a time this ridge was used as an old sheep driveway and eventually became the Golden Stairway trail, used by mountain bikers, motorbikes, and horses. Unfortunately the Tripod Fire in 2006 burned out a large portion of the area and some of the trail with it.
Ridge hikes and old trails are my favorite and I loved the idea of connecting Old Baldy with Starvation, which some people think may have also been a former lookout site. Over Memorial Day weekend I drove up to scope out conditions. While the road was clear nearly all the way to Starvation, snow still lingered along the north facing parts of the ridge so I decided to wait another week and poked around the summit of Starvation instead.
Was Starvation a former lookout site?
Some people in the lookout community think so. Me? I'm not so convinced. There are indeed footings, eye bolts, and guy-wires on the summit as well as a large concrete slab foundation. There aren't; however, any Osborne panoramic photos from the site and Ray Kresek's inventory doesn't mention it. Starvation is surrounded by several more prominent former lookout sites (Granite, Old Baldy, Pearrygin, and Tiffany) so it's hard to believe it was used as anything other than a patrol point or communications site. If you have any info though, let me know. It's still a summit worth visiting and has some great views!
Traversing the Golden Stairway
I went back a week later to complete the traverse and with less snow, made it as far as Blue Buck Ridge but unfortunately turned around again, this time due to unexpected threatening weather. An exposed ridge at 7,000+ isn't where I want to be in a storm! I did find some of the largest black bear tracks I've ever seen though, rambling down the north side of Blue Buck Ridge.
For a third time, I went back last Saturday and finally completed the whole route. Now that I've stood on the summit of Old Baldy, I know why you can see this mountain from everywhere—it has an unbelievable view! From the summit you can enjoy the entirety of the North Cascades from the Chelan-Sawtooth all the way to the Pasayten, over to the Tiffany and Okanogan Highlands, including nearly every prominent ridge in between. Old Baldy is absolutely incredible and might just be one of the neatest and least visited viewpoints in North Central Washington.
The route from Starvation to Old Baldy isn't a slouch that's for sure. It's about 5.5 miles one way with nearly 4,000′ of climbing up and down. Just below Starvation's summit is a sign for the Golden Stairway trail, though it cuts through a short section of blowdown. Instead, I started a bit further down the road to the west on a very clear motorbike trail at 6,700′ that descends Starvation's northwest ridge.
A double-track trail is definitely being used by motorbikes and easy to follow, dropping down about 300′ to a nice shoulder with big views west to the Cascades. It then climbs up to the top of Blue Buck Ridge (6,880′) before dropping back down the north side.
It's here at the summit of Blue Buck where the Golden Stairway trail mostly disappears through a tangled mess of blowdown and snags thanks to the 2006 Tripod Fire that burned over much of the area. I tried to push through the deadfall to see if I could pick up the trail on the ridge but it was fruitless. Instead, I backtracked to the moto trail, hiking down along the west slope of Blue Buck Ridge, which was much easier and faster traveling.
Eventually the double-track intersects with the old Blue Buck trail approximately a mile from the summit of Blue Buck Ridge. I took a muddy track to the east into an open meadow and voila, there was the Golden Stairway trail again. I never bothered to look for the trail back to Starvation from here, but at least from what I could tell, I'm not sure it's there anymore.
From the meadow, most of the trail to the shoulder of Old Baldy still exists and is relatively easy to follow. It does disappear in spots but I had no trouble finding it again if I kept heading in the direction I thought a trail would go.
At roughly 6,400′, about 3.5 miles from Starvation, the Golden Stairway comes to a junction and continues east down to Jim Creek and the West Fork Salmon towards Conconully. The route to Old Baldy continues straight ahead through a small section of nasty blowdown. I skirted east around the blowdown, picking up the trail again easily on the other side.
The old sheep trail climbs up a rocky area, then pops out into a large meadow that I can only imagine will be bursting with wildflowers in a few weeks. Old Baldy is straight ahead, though that large mountain never seems to get any darn closer! After hiking many sections of the trail that are missing, I found it ironic that the very obvious trail to Baldy's shoulder was marked by cairns. Go figure.
Old Forest Service maps show the trail ending on a 6,849′ knob south of Baldy but a foot path does continue. It gets a little lost in the trees below Baldy's summit but at that point, it's easy to get the last few feet to the summit. I climbed upward through the open sections of trees on the path of least resistance. Skirting around the west side of Old Baldy's summit avoids some large rocks but they're easy enough to climb up.
Once on top of Baldy I was shell shocked by the views! Oh. My. Gosh. It really did feel like standing on top of the world! The summit of Old Baldy still has lookout artifacts—a lot of old wood, hinges, and glass as well as some anchors.
The north side was still holding a fair amount of snow but I'd imagine it'll melt out fast if it hasn't already. Although I would have loved to have hiked this later in the season to enjoy the wildflowers, a day in the mid 40s was a perfect day for this one! This ridge traverse would be a darn hot one even on a mildly warm day.
I enjoyed the summit all to myself for over an hour, geeking out on all the peaks and thoroughly taking in the views. I didn't see a soul the entire way, only a few distant cars driving over Baldy Pass far below. Old Baldy is a prominent, seldom visited old fire lookout site that is definitely one of my favorite spots around. After seeing this summit from so many other places I've been, it was so exciting to finally make it to the top!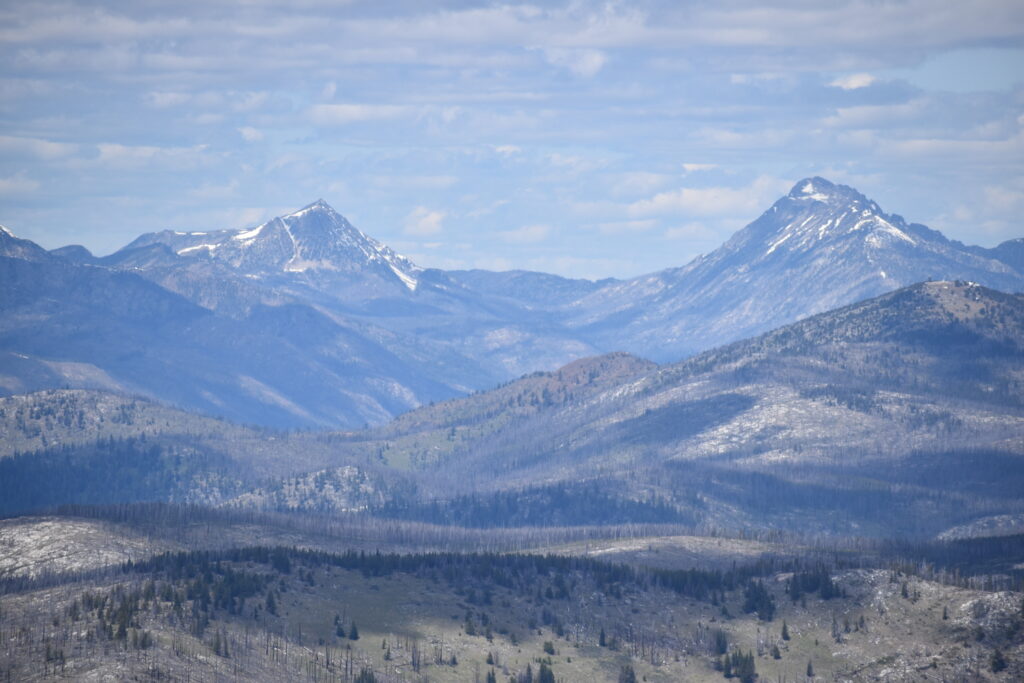 Date Climbed: 6/12/21
Distance (RT): 11.75 miles
Elevation Gain: 3,750′
Summit Elevation: 7,844′